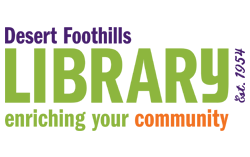 Welcome and thank you for considering a career at Desert Foothills Library! The Library offers a variety of positions in both public and support services with an innovative and fast-paced team.
We offer valuable benefits and services to our staff, per eligibility requirements. By becoming a part of our team, you will play an important role in engaging our community in literacy and learning!
Nestled in the foothills of the town Cave Creek, Desert Foothills Library is a dynamic and beloved community asset. The Library offers free memberships to all Maricopa County residents and thrives because of individual community members' generous financial support. With 20,000 square feet of books, audiovisual materials, a large used bookstore, meeting and study rooms, a demonstration kitchen, a beautiful patio with mountain views and much more, the Library is a wonderful place to relax, visit with friends, and to work. Innovative and creative staff host more than 1,300 programs a year and more than 100 community members give their time as volunteers to ensure patrons get personalized, friendly service.
Desert Foothills Library provides equal employment opportunities to all employees and applicants for employment, and prohibits discrimination and harassment of any type without regard to race, color, religion, sex, national origin, ethnicity, ancestry, age, disability status, marital status, pregnancy, veteran status, sexual orientation, gender identity and expression, genetic information, political affiliation or any other protected characteristic in accordance with applicable laws and regulations.