Chapter2 Bookstore is operated 7 days a week by a dedicated group of Desert Foothills Library Volunteers and has an inventory of more than 15,000 hardcover and paperback books in all genres.
A wide selection of DVDs, music CDs, audiobooks, children's books and puzzles are also available at bargain prices.
MONTHLY BOOK SALES
Chapter2 is fortunate to receive thousands of books and other media thanks to the generosity of the Desert Foothills Library members and patrons. These donations are offered to the library, sold in Chapter2 Bookstore or online on Amazon.
Monthly book sales provide a wonderful opportunity to purchase quality books and other media at even lower prices than the everyday bargain prices in Chapter2.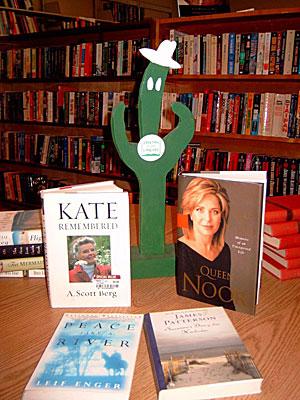 Chapter2 Books is currently not accepting donations of books, CDs, audiobooks, or DVDs.
Your donations help support library operations.  Please donate new and gently used items during normal business hours of the library.
Accepted
Hard cover fiction
Paperback and trade fiction
Current non-fiction
CDs and DVDs
Audio Books on CDs
Lightly used Puzzles
Not Accepted
Books that are soiled
Books in poor condition
Encyclopedias
Music tapes and VCR tapes
We also need volunteers to work in the bookstore, including at monthly sales.
Since its inception in 1954, Volunteers have always played a vital role at the Desert Foothills Library. As a member supported public library, it is operated with a small paid staff and a large number of dedicated volunteers.
Chapter2 Bookstore volunteers operate the bookstore on a daily basis, help with monthly book sales and assist with the Amazon sales. All the money raised from these activities are used to support the Desert Foothills Library with its mission and vision.
VOLUNTEERS ARE NEEDED!
Please print and complete the Volunteer application below and return it to the Library Manager.