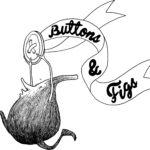 What is Buttons & Figs? 
Buttons & Figs is a local podcast just for children and families! With fun episodes featuring topics such as alliteration, rhyming, food play and more! Each episode features children's participation, special guests, stories and more.
Where can I listen?
You can listen to Buttons & Figs on their website or on Soundcloud. You can also use the Podcasts app on your iPhone or use iTunes or Google Play.
On Dr. Seuss's 115th Birthday, special guests from the kids podcast Buttons & Figs recorded for their podcast AND performed songs about alliteration and onomatopoeia. Buttons & Figs is a podcast for kids about playing with words. Make sure you listen to the episode featuring children who attended the event and our very own Youth & Teen Services Librarian Erin Meadows! Learn about alliteration, get silly, and hear great book recommendations!