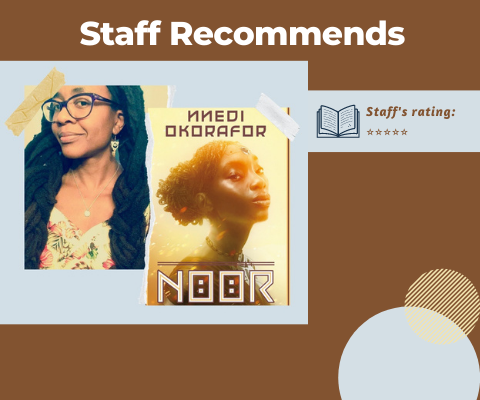 I have been a fan of Nnedi Okorafor's brilliant writing for many years, following her diverse works in the science fiction subfield of Africanfuturism, with novels and novellas often set in a futuristic Nigeria. Recently, Okorafor published Noor, named after massive wind turbines called Noors used by Ultimate Corp to exploit an enormous storm called the Red Eye. The novel follows two primary protagonists. The first, AO, is a Nigerian woman born with multiple physical disabilities who augmented her body with technology, embracing her technological improvements, even changing her name from Anwuli Okwudili to AO, for Artificial Organism. After being attacked in a market place for her enhancements, she is forced to go on the run. The second is a true Fulani herdsman, who goes by his initials DNA, trying to live a traditional life, when he is mistaken for a terrorist and similarly forced to flee. Both are caught in the disastrous events of one terrible day that completely reshapes their lives, leading them on a journey of both self and national discovery.
I could not do justice to the novel beyond Mayvesh Murad's brilliant review for Tor.com, but was personally struck by the individual journeys of each character. Anyone who has ever not quite "fit in" and felt like an "other" will likely be drawn in by the duality shown by AO of both pride in one's unique self and fear of the othering effect of forces beyond your control. I cannot recommend this book highly enough. Even as a fan of Okorafor's intelligent, unique, and engrossing past works, I was blown away by this unique novel.
Noor is now available at Desert Foothills Library.
Additional works by Nnedi Okorafor in our collection include: